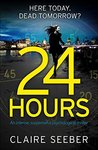 24 Hours: An intense, suspenseful psychological thriller by Claire Seeber
My rating: 5 of 5 stars
I am giving this book 5 stars after reading it in one sitting the title is what it says it is, I am a Claire Seeber fan and this is definitely her best one yet.
The story is set over 24 hours with Laurie racing against time to find her daughter. The chapters flick between the count up to the 24 hours and the past building up the story of what has happened and what is happening which is very cleverly done when the story comes to an whole at the end. this is what makes this story exciting and full of suspense. I was literary sitting on the edge of my seat hoping Laurie gets to her daughter.
If you like fast paced psychological thrillers then this book is for you.
thanks to netgallery and the publisher for this book